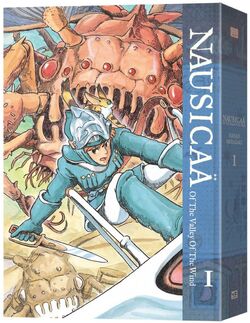 Nausicaä was serialized in Animage magazine between 1982 and 1994.
Viz Media has published Nausicaä in six formats:
They first published English translations of Nausicaä in 27 issues in the Viz Select Comics series from 1988 to 1996.
Viz Media then combined the 27 issues into seven Viz Graphic Novels between 1990 and 1997.
The manga was reprinted into four graphic novels, the Perfect Edition, between 1995 and 1997.
The fourth format was a box set of four volumes published in 2000.
The seven graphic novels were re-released in the Editors Choice edition in 2004.
The two-volume Deluxe Edition was released in 2012.

Reference:
Viz Select Comics: VS01 - VS27
Viz Graphic Novels: VG1 - VG7
Perfect Edition: PE1 - PE4
Box Set: BS1 - BS4
Editors Choice: EC1 - EC7
Deluxe Edition: DE1 - DE2
There is good information to understand what is an edition vs a printing from Editions and Printings, How to Tell the Difference: a guide for book collectors by Michael Sauers  
References
Edit
a See Page Conversions Between Editions to convert Deluxe Edition volume 1 (DE1) to other editions