The Torumekian Armored Corvette [1] is a large flying fortress with four wings. It is part of Kushana's forces and seems to be a staple of the Torumekian military.
Description and Capabilities
[
edit
|
edit source
]
The Corvette has two large wings forward and two slightly shorter wings aft.
There is a non-retracting landing gear pylons attached to each wing. The aft of the Corvette has no formal vertical stabilizer but the two rear wings have supplemental wings attached from the fuselage to the landing gear pylons, creating an airfoil.
The cockpit has several stations, including a large steering wheel and room for multiple crew. The rear end of the Corvette has a quick troop deployment space open to the elements. The ship is heavily armed.
The Corvette is faster than Bumblecrows and the giant insect Hebikera[2].
The Corvette escapes the defeat at the Battle of the Acid Lakes. Kushana continues into the Dorok Principalities with the intent of joining up with the Torumekian Third Army and seize the throne. It encounters two Torumekian Strike Bombers attacking an Nameless Dorok Village and shoots them down.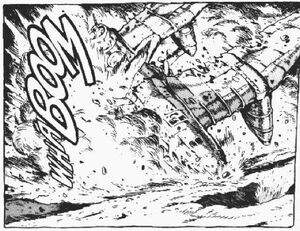 It crash lands in the midst of Dorok artillary fire at Sapata, where it is destroyed [3].
The Corvette is replaced when Kushana's men seize the Unnamed General's personal corvette[4], which has two wings and a V-tail.
a See Page Conversions Between Editions to convert Deluxe Edition volume 1 (DE1) to other editions
Community content is available under
CC-BY-SA
unless otherwise noted.